We have a great Tractor Trailer Company positions for top drivers including Dry Van and Flatbed and Heavy Haul Company Positions along with the best lease purchase options available today for Dry Van, Flat Bed or Heavy Haul. 
Please click on the option below that for a Company or Lease Purchase job:  All the jobs have links to return you to any of the other job options below.  There is complete information for each of these jobs at the links below. 
2: (W2) COMPANY FLAT BED JOB (No Experience required we will train you, but obviously better if you have some experience: CLICK "HERE" FOR COMPANY FLAT BED JOB
HIRING AREA MAP: Dark Blue: Flatbed/Heavy Haul only.  Light Blue:  Flatbed/Heavy Haul and Van   Super Light Blue: Van Only RED: No hiring in these areas.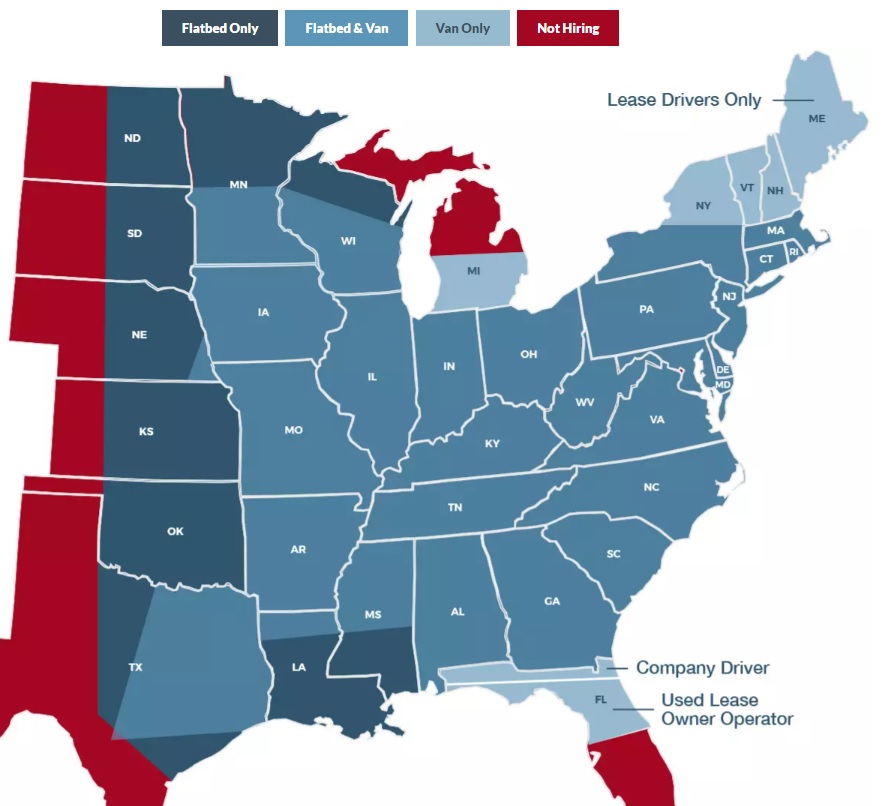 REQUIREMENTS
REQUIREMENTS:   You must have a  Minimum 8 months Class A Tractor Trailer Experience IN THE LAST TWO YEARS, OR AT LEAST ONE YEAR OF TRACTOR TRAILER EXPERIENCE IN THE LAST 3 YEARS. (Must be OTR Experience) hauling at least 40 foot trailers.  
Fairly clean MVR and Background. SORRY NO SAP DRIVERS!
JOB HISTORY:  Sorry no job hoppers for this job.  No more than three (3) job changes in the last twelve (12) months, or six (6) in the last 36 months, no unaccounted gaps.