We have a great Tractor Trailer Company position for drivers with Heavy Haul experience.  We have the best pay and full benefits driving top of the line Freightliners, Volvo's and Pete's at this time available and we can put you to work ASAP.  NOTE:  This is a W2 position with full benefits.  If you want a 1099 position the only option is the Lease Purchase or owner operator options at the link below)  
We have the freight which means you will stay busy and make money a lot of money.  We have Schnabel trailers, Step decks and 13-axle perimeter trailers along with specialized Flatbed equipment.
Guaranteed home time every two weeks when requested but can stay out as long as you want
ADDITIONAL OPTIONS FOR Company or Lease Purchase: 
1: (W2) (IF YOU DON'T HAVE HEAVY HAUL EXPERIENCE BUT WANT TO DRIVE HEAVY HAUL We can train you but you have to start out as a Flatbed driver first) please Click here for information for the Regular Flatbed Company Job and we will train you how to become a Heavy Haul drivers: CLICK "HERE" FOR FLATBED COMPANYJOB
2: (W2) IF YOU PREFER A DRY VAN COMPANY JOB: CLICK "HERE" FOR COMPANY DRY VAN JOB
3: (1099) IF YOU PREFER A DRY VAN LEASE PURCHASE (NO CREDIT CHECK, NO MONEY DOWN: CLICK "HERE" FOR DRY VAN LEASE PURCHASE
4: (1099) IF YOU PREFER A FLATBED LEASE PURCHASE NO MONEY DOWN, NO CREDIT CHECK: CLICK "HERE" for FLATBED LEASE PURCHASE information.
HEAVY HAUL COMPANY DRIVERS:
Want to Average .77-80 CPM? Earn $2,000 or more per week with benefits! (Up to $120,000 per year or more!) 
You always get paid 50% over-dimensional pay
You can earn up to $120,000 or more per year!    Rider policy and Bring Your Best Friend Along for the Ride!   Hey, company drivers! We have some BIG news! You can now bring your furry friends with you on the road! That's right! Cats and dogs are now allowed inside company trucks. 
We have the only UPSIDE Pay program in the trucking industry so that you the driver are rewarded the way you should be. 
As a Heavy Haul company driver, Upside Pay will pay you cents per mile (CPM) or 26 percent of the transportation revenue. You'll automatically get paid whatever earns you more — no need to choose!
Our company experienced Heavy Haul drivers start at .77 to .80 CPM based on experience (all miles) but remember you always get paid higher of percentage pay or mileage pay.  
Join Our Team as a Heavy Haul Company Driver
Do you have OTR truck driving experience? If you have a passion for excellence, safety and the challenges of hauling a variety of freight and routes, we want you on our team! As an OTR driver, haul freight throughout the lower 48 states and Canada.
What Makes our Company Drivers So happy?
Upside Pay program will pay you cents per mile (CPM) or 26 percent of the transportation revenue. You'll automatically get paid whatever earns you more — no need to choose!
Let me explain the ..80 CPM average pay.   (Remember this is the only company out there that has this special type of pay program out there period.)
You are paid either 26% of the load or CPM it's automatically done to pay you the higher of the two every single time you drive.  Most of the time you will get the percentage which obviously will pay more and that is why most drivers average up to .80 CPM.
So, to keep it simple if you had a $10,000 load that would be $2600 to you.   But there are times when you are empty with no load, maybe deadheading, back hauling a trailer etc. and in this case you would still get paid but by the mile so you will never drive and not get paid like that would happen to you with a normal percentage pay job with an empty load.
If you average out the percentage paid by the load and the CPM rate of 55-60 CPM the AVERAGE of those has worked out to equal around .80 CPM for drivers.  
With this job, you'll enjoy newer equipment, consistent miles, more home time and great career path options!
Heavy Haul Company Driver Benefits

Company heavy haul drivers start at 77-80 CPM based on experience
$1,000 orientation completion bonus
PET POLICY: One cat or dog is allowed in the truck (ask driver consultant for details)
Per diem at no cost to the driver
Increased tarping pay
50 percent over-dimensional pay
Consistent miles
Newer equipment
Options to grow your career by hauling bigger freight
Vacation pay
Medical, dental and vision insurance
Life insurance
Disability insurance
401(k)/profit-sharing plan
Flexible spending accounts
Drop, pick-up and stop pay
Loading and unloading pay
Layover and breakdown pay
Employee assistance program
ELDs in EVERY TRUCK since 2009
APUs and inverters in EVERY company driver truck
Refrigerators can be added upon request
Flights, car rentals, single rooms and all meals at orientation covered (spouses are welcome!)
HEAVY HAUL FLATBED HIRING AREA SEE MAP BELOW. "All Dark Blue and all MEDIUM BLUE AREAS" (Super light blue is for Dry Van only) (Red is no hiring area)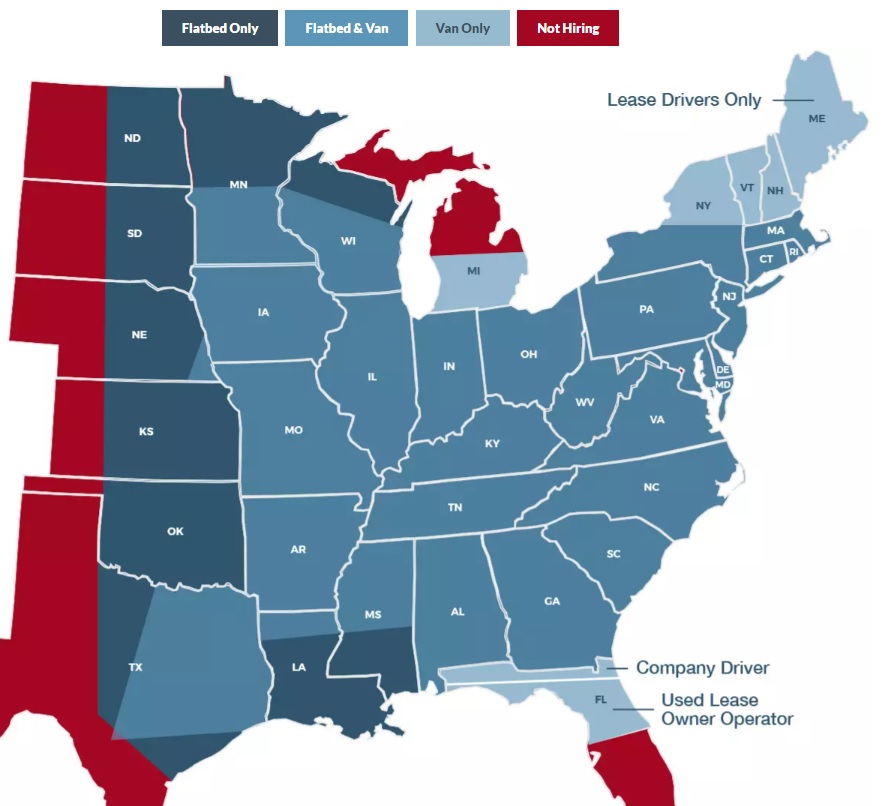 REQUIREMENTS
REQUIREMENTS: We are looking for elite top quality drivers for this job.   For this job you must have Heavy Haul Experience.  If you don't have any heavy haul experience please feel free to apply for the Flatbed job, we will train you to become a Heavy Haul Driver.   If you don't have Heavy Haul experience and we'll train you: CLICK "HERE" FOR FLATBED COMPANYJOB 
You must have a  Minimum 8 months Class A Tractor Trailer Experience IN THE LAST TWO YEARS, OR AT LEAST ONE YEAR OF TRACTOR TRAILER EXPERIENCE IN THE LAST 3 YEARS. (Must be OTR Experience) hauling at least 40 foot trailers.  
Fairly clean MVR and Background. SORRY NO SAP DRIVERS!
JOB HISTORY:  Sorry no job hoppers for this job.  No more than three (3) job changes in the last twelve (12) months, or six (6) in the last 36 months, no unaccounted gaps.
You will be contacted within 24 hours of submitting the secure 10 street (inteliapp) Pulse application. Most likely you are in the intellapp, 10 street system so the application is prefilled with your information and it will only take you a minute or two to complete. •
PLEASE CLICK ON "Click Here to Apply" link  BELOW TO APPLY FOR this job.