We have Freightliners, Volvo's and Pete's at this time available and can put you to work ASAP. You are paid on a percentage basis.  You can stay out 2 weeks to 3 weeks or longer that is up to you with this job. We have 2017 to 2020 Models available. We can hire experienced Flatbed Drivers or Drivers that don't have Flatbed experience and want us to train them. Experienced Heavy Haul Drivers can apply for a Heavy Haul Lease Purchase at the link below.
We have the freight available for you so no sitting around with this job.   
ADDITIONAL OPTIONS FOR Company or Lease Purchase: 
1: (1099) IF YOU PREFER A DRY VAN LEASE PURCHASE (NO CREDIT CHECK, NO MONEY DOWN: CLICK "HERE" FOR DRY VAN LEASE PURCHASE
2: (W2) Company Position Experienced Only Heavy Haul drivers: CLICK "HERE" IF YOU HAVE HEAVY HAUL EXPERIENCE AND YOU WANT A HEAVY HAUL COMPANY JOB COMPANY
3: (W2) Company Position  IF YOU PREFER A DRY VAN COMPANY JOB: CLICK "HERE" FOR COMPANY DRY VAN JOB
4:(W2) IF YOU PREFER A COMPANY FLAT BED JOB (No Experience required we will train you, but obviously better if you have some experience: CLICK "HERE" FOR COMPANY FLAT BED JOB
Flatbed Lease Operators are bringing home $120,000 to $170,000 "AFTER" all expenses meaning after truck payments, fuel payments etc. Most Independent Contractors are averaging over $250,000 to $300,000 Gross per year with this job
FLATBED Lease Purchase Operator Benefits
One, two and three-year lease purchase options
Guaranteed pay on fuel surcharge collected
2017 or newer Freightliner, Peterbilt or Volvo trucks
Tire fund: 1.8 CPM comes out of your check and covers the costs of new tires when you need them
No fixed expenses for two weeks ($1,038 – $1,538 cash savings on truck payment, insurance, escrow, etc.)
No money down
No credit check
Fuel discounts
One-year lease: $2,000 completion bonus
Two-year lease: $8,000 completion bonus ($2,000 after year one and $6,000 after year two)
Catastrophic in term of lease — Bumper-to-Bumper is 30 days + all factory warranty
Purchase options available at the end
Many companies especially those out of Chicago will tell you they are going to pay you 80% or 90% of freight. The truth is if they are using broker freight you never will know the actual cost and in many case you could be promised 90% but if it's low cost freight or there is no freight it doesn't matter you still end up at the end of the week with $300 in your pocket.
Plus many companies promise you a percentage and then skim 30% off the top as you have no way to verify what they are actually getting paid. Deal with a legitimate company that pays a fair amount into your pocket, pays you weekly without any games played and doesn't have to use brokers and will always share what you are being paid for the load.
PAY: 65% to 67% legitimately paid to you of the actual billed freight along with Stop Charges, Loading/Unloading Charges, Detention/Layovers, Repositioning, Truck ordered and not used and any NY Arbitration and 100% of fuel surcharge.
HUGE ADVANTAGES TO THIS LEASE PURCHASE:
>>>>Plates and permits are paid by the company
>>>>NO TRAILER RENTAL FEES. Pull company trailers at no charge (That can add up to a savings of over $200 a week or more)
>>>>Free Satellite communication system installation
>>>>Collision/Bobtail/Occupational Accident Insurance available at a very low rate
>>>>WARRANTY PROTECTION PLAN for your truck so you aren't stuck with huge repair bills you can't pay.
>>>>Passenger Program
>>>>WEEKLY SETTLEMENTS–Document Submitting -In cab scanning
>>>>NO UP FRONT MONEY REQUIRED-Zero Down, no credit check of any kind.
>>>>PAID 100% of Billed Fuel Surcharge
>>>>NO FIXED EXPENSES FOR THE FIRST 2 WEEKS so you can get your business started right away making money.
WEEKLY FIXED EXPENSES
Truck Payment: 2017-2020 Approximate $560 to $680 per week depending on the year of the truck
FHUT $11.00
Physical Damage Insurance: $35 to $80 depends on year of the truck
Warranty Protection Plan: Included
Bobtail Liability Insurance $7.00
Occupational Accident: $42.00
Escrow Account: $75.00
Document Submitting-In Cab scanning $2.80 per week
Qualcomm Rental: $15.00 per week
Approximate Weekly Amount: $747.80 to $900.00 per week depending on the year of the truck you purchase.
PER MILE DEDUCTIONS FOR LEASE PURCHASE DRIVERS ONLY (Varies by age and mileage on tractor)
Maintenance Fund: .06-$.14 CPM
PQM (Tires, brakes, Oil Changes and Emissions .0495 CPM
Tarp, Chains, Binders (if applicable) .04 CPM
EQUIPMENT FOR TARPING AND STRAPPING: If you don't have Tarps, Chains, Binders etc you can get this financed as part of the lease. Total equipment is around $1500 to $3000 and they only charge you .04 CPM until paid then you own it forever, Normally ends up around $50 a week for the equipment. If you already have this equipment or some of it, obviously you won't have to pay this fee.
Here is a list of required equipment for Tarping/Chaining Etc: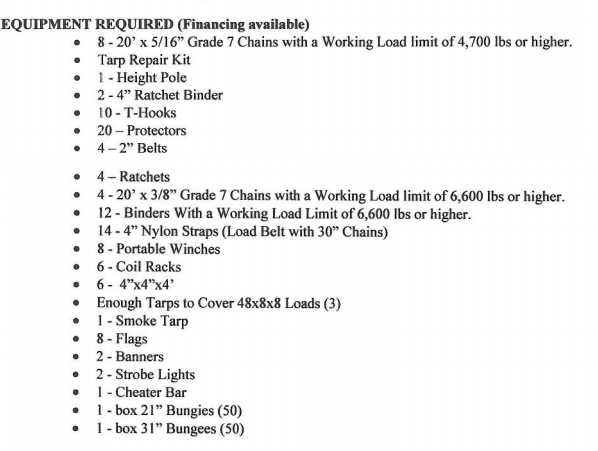 Weekly settlements:
Third Party Health, dental & life insurance available for purchase
FLATBED/Heavy Haul HIRING AREA SEE MAP BELOW. "Dark Blue and Medium LIGHT BLUE AREAS" (Super light blue is Van only, red it no hiring area)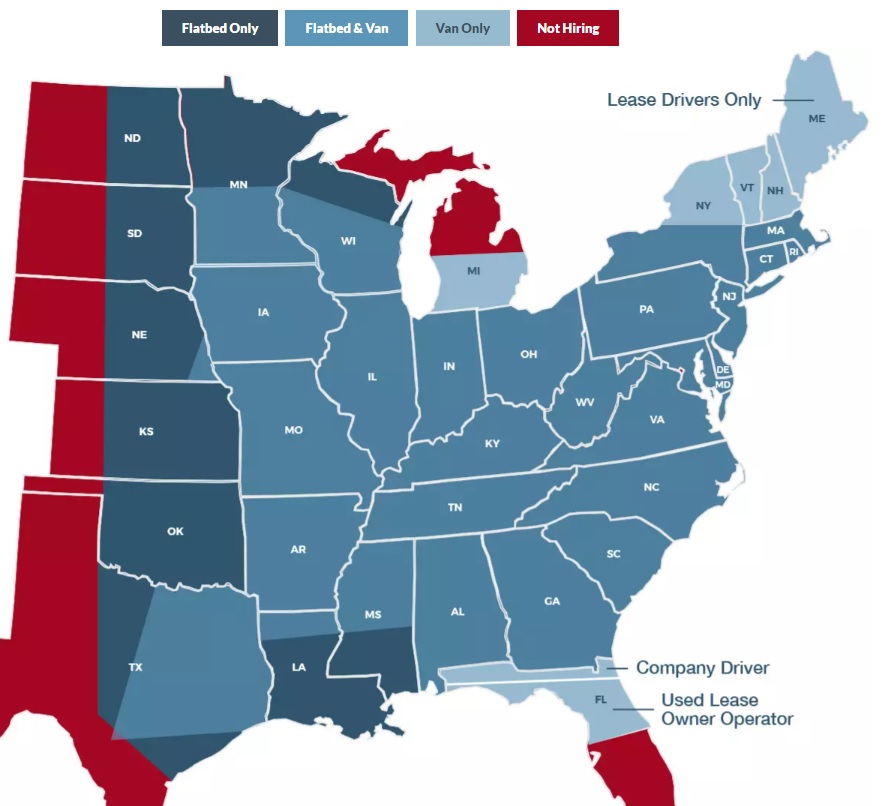 Independent contractors receive huge fuel discounts.
The amount of the fuel surcharge is based on the national fuel price. This ensures that
in times of soaring fuel prices you will be able to hold your profit margins and, in
many cases increase them.•
Continued rate increases are being awarded to us by our customers and as the rates increase, so do YOUR PROFITS!• We do not use brokers, we have your own established network of companies and businesses we deal with to keep your truck loaded and busy.
WE DO NOT FORCE DISPATCH
Optional health insurance benefits are offered for Owner Operators and Their Families.
Variable cost
The single largest variable cost for each independent contractor will be fuel. Our aggressive sales staff will benefit you by negotiating a top tier fuel surcharge (FSC). Example – As an independent contractor you will receive 100% of the fuel surcharge billed to the customer. 2022 average ranged from 37-60 cpm.
REQUIREMENTS
REQUIREMENTS: Minimum 8 months Class A Tractor Trailer Experience IN THE LAST TWO YEARS, OR AT LEAST ONE YEAR OF TRACTOR TRAILER EXPERIENCE IN THE LAST 3 YEARS. (Must be OTR Experience) hauling at least 40 foot trailers.  
Flatbed experience is preferred, but is not required we will train you. If you have Heavy Haul experience or want to get into the heavy haul business we can also help you with that but you must have heavy haul experience to apply for a Heavy Haul Lease Purchase.
If you have no heavy haul experience sign up for the Flatbed lease purchase and we can train you for heavy haul down the road.
Fairly clean MVR and Background. SORRY NO SAP DRIVERS!
You will be contacted within 24 hours of submitting the secure 10 street (inteliapp) Pulse application. Most likely you are in the intellapp, 10 street system so the application will only take you a minute or two to complete. •
PLEASE CLICK ON THE TYPE OF TRUCK YOU WANT BELOW TO APPLY FOR AND COMPLETE THE APPLICATION: NOTE WE CANNOT GUARANTEE THAT THE TYPE OF TRUCK YOU SELECT WILL BE AVAILABLE BUT WE WILL TRY OUR BEST, MOSTLY Freightliners are available at this time. We do have some Manual Transmissions available but they are getting pretty hard to find.
TO VIEW THE TRACTOR TRAILER EQUIPMENT (Freightliners, Volvo's or Pete's, Click on this button: Make sure you return to this website to apply you have viewed the equipment or you can also apply on the Equipment list page that will pop up for you when you click on the View Lease Equipment button below.