Flatbed Drivers, Heavy Haul Drivers or Dry Van Owner Operators who want to lease on with a great company.   We have the freight available for you so no sitting around with this job.   
Owner-Operator Trucking Jobs That Provide You the Best Freight
You've always wanted to be your own boss, but you're worried about the risk that comes with it. What if you can't find enough high-paying freight to pay your bills?
Get peace of mind when you bring your truck and drive with us under our authority or under yours.  We have thousands of customers that trust us to move their freight every day, you'll have access to consistent freight that pays you what you deserve.
Save thousands on insurance plates and permit fees and trailer rental fees with our company.
We prefer drivers stay out at least 2 weeks if you want to make the most money you can, but as an owner operator you make the decision on home time, loads you want to haul etc.
Owner-Operator Benefits
100% of paid fuel surcharge collected
Choose your own loads
Plates and permits paid for by US  (Wow talk about saving you a ton of money each week) 
Pull company trailers at no charge to you  (Saves you an additional $200 to $500 a week)
Daily settlements at NO expense to you
Direct deposit
Fuel card
Passenger program
Fuel/mileage tax reporting
Fleet rates on insurance
Mobile communications installed free
Medical, dental and life insurance available 
Tractor Requirements:
Truck must be less than 10 years old
Truck must have a sleeper if driving OTR
Fifth-wheel for van OTR must be 46-47 inches
Fifth-wheel for flatbed OTR must be 48-50 inches
Back of cab clearance must be 68 inches or more
Tare weight must be 20,000 pounds or less
Tractor length must be 30 feet or fewer
Wheelbase must be less than 270 inches 
Percentage pay: There are companies out of Chicago claiming they will pay you 80% or 90% of loads etc and promise you the moon.  It's all smoke and mirrors as you know they skim the money off the top so you end up with 40%, they lie about loads, and 1000 drivers are all fighting for the same load on the load boards.  It's a mess.
PAY!!   A realistic amount of 65% to 67% and more for over dimensional loads and but we have the freight for you to haul and it's high dollar loads.  I can promised to pay you 90% and then if all you haul are $1000 loads you will starve or pay you 65% with a $3000 load and you will be in much better shape. 
Note:  There are companies that claim they will pay you 80% to 90% of the load, but if they have cheap loads or don't have the loads or skim off the top you are lucky to end up with 50%.  We have top-paying freight, and you can choose your own loads.  This percentage has been working out great for drivers so don't let the 65% scare you because if you have value loads you will make the kind of money you won't make with those fly by night operations that don't have any freight.
We have plenty of freight and  we don't have to rely out on outside brokers to keep you busy.   
WE PAY:  65% of Billed
WE PAY:  Stop Charges
WE PAY:  Loading/Unloading Charges
WE PAY:  Repositioning
WE PAY:  Truck ordered and not used
WE PAY:  NY Arbitration:
Expenses only around $200 a week + Fuel (You are always paid 100% of FSC and fuel comes out of your settlements so you don't have to pay that up front  You get all the major fuel discounts along with maintenance discounts etc too)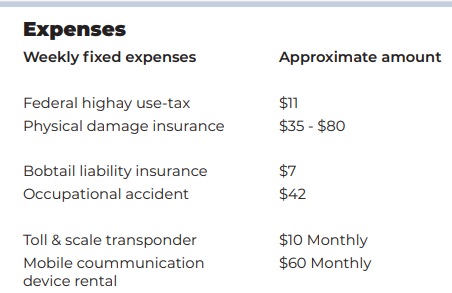 ADDITIONAL OPTIONS FOR Company or Lease Purchase: 
1: (1099) IF YOU PREFER A DRY VAN LEASE PURCHASE (NO CREDIT CHECK, NO MONEY DOWN: CLICK "HERE" FOR DRY VAN LEASE PURCHASE
2: (W2) Company Position Experienced Only Heavy Haul drivers: CLICK "HERE" IF YOU HAVE HEAVY HAUL EXPERIENCE AND YOU WANT A HEAVY HAUL COMPANY JOB COMPANY
3: (W2) Company Position  IF YOU PREFER A DRY VAN COMPANY JOB: CLICK "HERE" FOR COMPANY DRY VAN JOB
4:(W2) IF YOU PREFER A COMPANY FLAT BED JOB (No Experience required we will train you, but obviously better if you have some experience: CLICK "HERE" FOR COMPANY FLAT BED JOB
Third Party Health, dental & life insurance available for purchase
FLATBED/Heavy Haul HIRING AREA SEE MAP BELOW. "Dark Blue and Medium LIGHT BLUE AREAS" (Super light blue is Van only, red it no hiring area)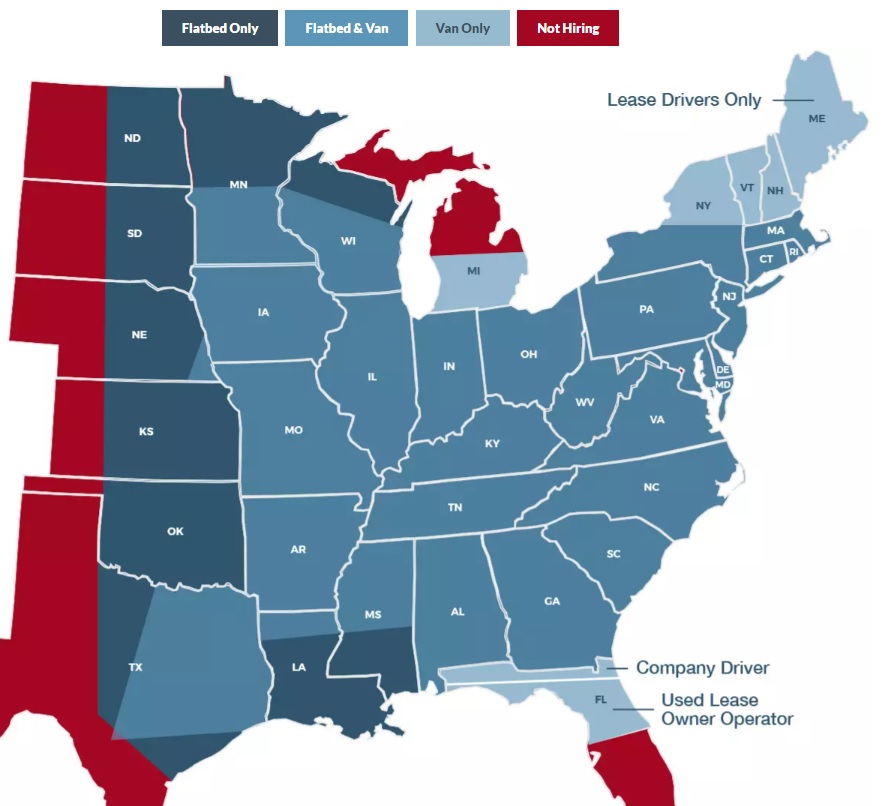 Independent contractors receive huge fuel discounts.
The amount of the fuel surcharge is based on the national fuel price. This ensures that
in times of soaring fuel prices you will be able to hold your profit margins and, in
many cases increase them.•
Continued rate increases are being awarded to us by our customers and as the rates increase, so do YOUR PROFITS!• We do not use brokers, we have your own established network of companies and businesses we deal with to keep your truck loaded and busy.
WE DO NOT FORCE DISPATCH
Optional health insurance benefits are offered for Owner Operators and Their Families.
Variable cost
The single largest variable cost for each independent contractor will be fuel. Our aggressive sales staff will benefit you by negotiating a top tier fuel surcharge (FSC). Example – As an independent contractor you will receive 100% of the fuel surcharge billed to the customer. 2022 average ranged from 37-60 cpm.
REQUIREMENTS
REQUIREMENTS: Minimum 8 months Class A Tractor Trailer Experience IN THE LAST TWO YEARS, OR AT LEAST ONE YEAR OF TRACTOR TRAILER EXPERIENCE IN THE LAST 3 YEARS. (Must be OTR Experience) hauling at least 40 foot trailers.  
Flatbed experience is preferred if you want to drive Flatbed loads, but is not required we will train you. If you have Heavy Haul experience or want to get into the heavy haul business we can also help you with that but you must have heavy haul experience to apply for a Heavy Haul Lease Purchase.
If you have no heavy haul experience sign up for the Flatbed lease purchase and we can train you for heavy haul down the road.
Fairly clean MVR and Background. SORRY NO SAP DRIVERS!
You will be contacted within 24 hours of submitting the secure 10 street (inteliapp) Pulse application. Most likely you are in the intellapp, 10 street system so the application will only take you a minute or two to complete. •
PLEASE CLICK ON THE TYPE OF TRUCK YOU WANT BELOW TO APPLY FOR AND COMPLETE THE APPLICATION: NOTE WE CANNOT GUARANTEE THAT THE TYPE OF TRUCK YOU SELECT WILL BE AVAILABLE BUT WE WILL TRY OUR BEST, MOSTLY Freightliners are available at this time. We do have some Manual Transmissions available but they are getting pretty hard to find.