We are looking for Elite Drivers who want a great home time but who will be treated with the pay and respect you deserve. You will be home every other weekend guaranteed.
You won't have to spend weeks and months out there on the road unable to get home because the flaky company you work for can't get their act together to get you home.
The whole reason for this company is to make Driver's lives better. You deserve to be treated like the Professional you are and finally there is a trucking job that does just that.
You work hard to arrive on time. You deserve to get home on time too. And driving for us, you will. You just make a request right in the app, and the system takes care of the rest. No more plans that get you home later than planned.
You will average over 2500 miles a week with pay up to .60 CPM plus incentives for more. You can earn 30% more than the industry average and our goal is 95% or better on time Home Time. No games trying to keep you out longer than when we promised to get you home. (Drivers are averaging around $1500 a week at just 2500 miles and close to $1800 a week if you drive around 2800 to 3000 miles a week) We have as much freight as you want to haul. No sitting around waiting for a load.
When you call for back-up, you want someone who can actually help. You want our Operations Specialists. You can call, chat or email us at any time. And when you do, you won't get a bunch of bureaucracy. You get a single point of contact who is empowered to help you and committed to treating you like the professional you are.
YOU'RE NEVER ALONE OUT THERE: You will never be alone out there. The only people who understand how tough the job is. Other truckers. So, we made it easy to connect with your compatriots anytime, anywhere. Whether you need a parking tip or just want to talk, you can get it all through the app. It's just like CB radio days – minus the static.
• For this job you will drive Top of the line 2020-2021 Freightliner Cascadia's trucks fully equipped w/APU, 1500-watt inverter, refrigerator, TV mount! APU's in every truck, so you don't have to worry about idling or not, every truck has an APU so you can power the lights, AC and other electronics.
Refrigerators come Standard on our trucks. Every cabin comes complete with a spacious minifridge, microwave cabinet space and matching cabinetry.
Drivers average 2500+ miles per week
• Optimized load plans to maximize your miles
• On time home time is what we grade ourselves against
• Majority of freight is East of I-35, but we go where the freight goes
• Average length of haul is over 700 miles
• All shifts are empowered for your needs
Operations Specialist you can talk with whenever you need us at anytime!
ü Single point of contact
• Driver App Includes the following
ü Social Network Abilities
ü Vision to your Journey, including preplans
ü Customer Attributes
PayScale:
6-24 Months – .56 cpm
24+ Months – .60 cpm
• Detention Pay $12.50 per hour after 2nd hour
• Layover Pay/Breakdown Pay $100 per day
HOME TIME: Home every other weekend Guaranteed. Out for 12 days with a full 2 days off at home every other weekend.
BENEFITS:
Medical, Dental, Vision, Life, Disability, Accident and Critical Illness Insurance  (Kicks in after jut 30 days you don't have to wait 60 to 90 days like you do with most other companies)
401(k) Retirement Savings
Employee Stock Purchase Plan
Vacation days based on tenure.
Discount programs for products and services such as cars, rental cars, electronics, home appliances and power tools
Home purchase or refinancing advisory and cash back
Drivers Legal Plan
REQUIREMENTS: Minimum of 3 to 6 months of Class A Tractor Trailer Experience pulling trailers at least 40 feet in length in the last 3 years. Fairly clean MVR and Background along with job history.
WE DO NOT HIRE SAP DRIVERS OR RECENT GRADS.  Please don't bother to apply if this is you.  (A Recent grad is a driver with less then 3 months of verified tractor trailer experience.  Truck school  time and time with a trainer do not count) 
Limited openings this job won't last for long. Our application is a 10 street Intelliapp so you are most likely already in the system so applying for this job is easy and fast.
You will be contacted within 24 hours of submitting the secure 10 street (inteliapp) Pulse application. Most likely you are in the intellapp, 10 street system so the application will only take you a minute or two to complete.
(Scroll down to see hiring area map, the Driving area is mainly from I-35 and east the map below is only the hiring area not the running area)
HIRING AREA MAP (Florida and GA hiring area, scroll down for map of entire area we are currently hiring in.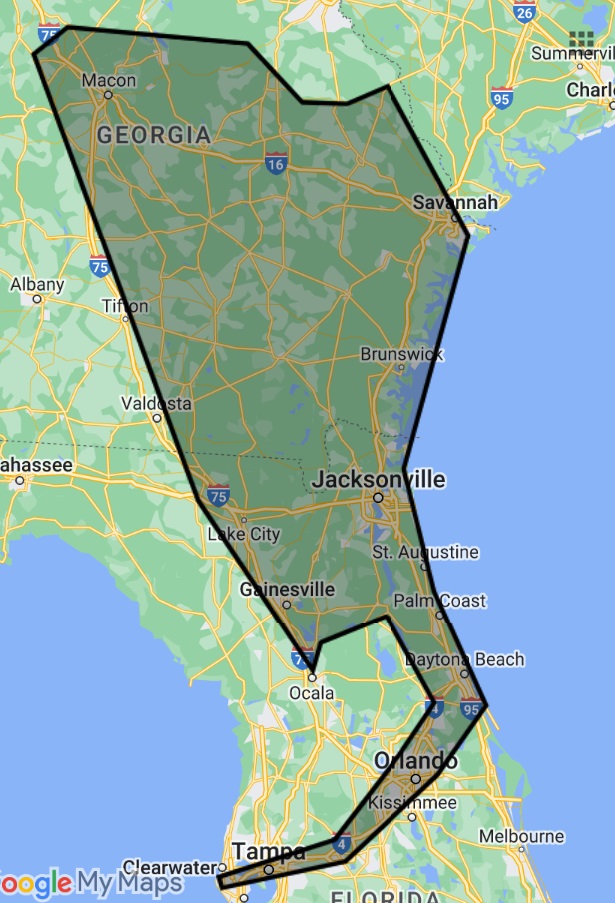 CURRENT FULL HIRING AREA MAP