Great job with the best equipment, Midwest driving area and Great Great home time.  You can be home every weekend, or home weekly or stay out longer and make more money with great off time.
Save a lot of money as this job comes with FREE HEALTH CARE PREMIUM INSURANCE FOR THE ENTIRE FAMILY. 
Drive only in the Midwest states.
Pay goes up to $1.00 per mile for every mile over 2000 miles a week.  Depending on your experience and home time you can make $1500 to over $2000 per week.  
Don't forget you get a $2000 sign on bonus in addition to the pay below.  The sign on bonus is paid out really fast in just the first two weeks you will pocket $1500 of the $2000.  $2000 sign on bonus   $750 Week 1, $750 week 2, and $500 on the 180th day.
Free Health insurance plan for the entire family, Starts 1st of month after 90 days. $35 copay for Doctor visits.
70/30 plan, $1500 per person up to $4500 per year for family.
Prescription drugs are 5-15-35, generic, name brand, mail order.
Dental is also free and kicks in after 1 yr. 
Driver Types  Company Solo       Types of Runs  OTR, Regional, Dedicated    Type of Freight  Van, reefer, flatbed.
Type of Equipment  Mack Pinnacles and Anthem  Transmission Type  mostly 12 speed automatic.
Average age of tractor  5 years old Is truck permanently assigned to the driver?  Yes
Can truck be taken home for time off?  Yes, but no parking at truck stops  Is truck equipped with Invertors / APU's?  yes .
% of Drop and Hook  65 % of No Touch    99 %  
 When are drivers paid?    Every Friday How are drivers paid?    Direct Deposit
Primary Running Areas  Midwest Average Miles per wk.   2200-2400 Average Length of Haul    450-500
Home Time / Days Out   5 to 23 days out and 34 hrs to 5 days home  Average Weekly Pay    1250 to 2000   OTR  
EZ Pass provided    Yes Pre-Pass Provided  Yes  Type of Fuel Card  EFS  Dock Detention Pay  25% of what is paid after 2 hours ($15)
Rider Policy  Yes and no charge. Have to wait 90 days.  Pet Policy  No pets allowed  Qualcomm Provided  Yes
Paid Orientation  $300  How long is Orientation  2.5 days Orientation is held where?  Quincy, IL (Transportation provided along with most meals a day and hotel is paid for)
What day does orientation start / end?  M-Wed Lodging Provided (Where will the driver be staying?)  Yes, Microtel Inn and Suites
Meals Provided (Breakfast / Lunch .  Travel Provided       Insurance Starts When?  90 days  Single Non Smoking Cost per month  $0 for full family insurance.
Vision Insurance  NONE 401 (k) Retirement Plan  IRA
NOTE: At this current time, we prefer reefers drivers or drivers that will do both reefer and Dry van as the Reefer market is HOT.  We are moving a lot of  food products for  General Mills, Cargill, Conagra, P&G etc.
We have Dry van freight but right now it's not as hot as reefer freight so if open to both Reefer and Dry Van you will make a lot more money.
DRY VAN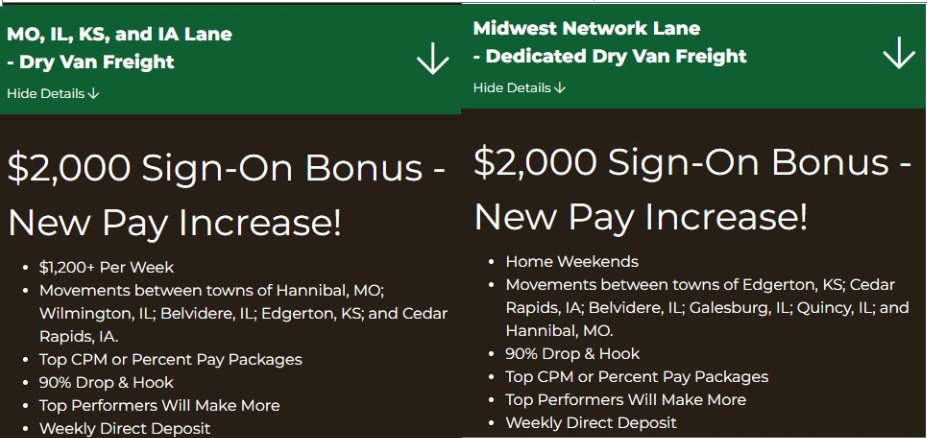 REEFER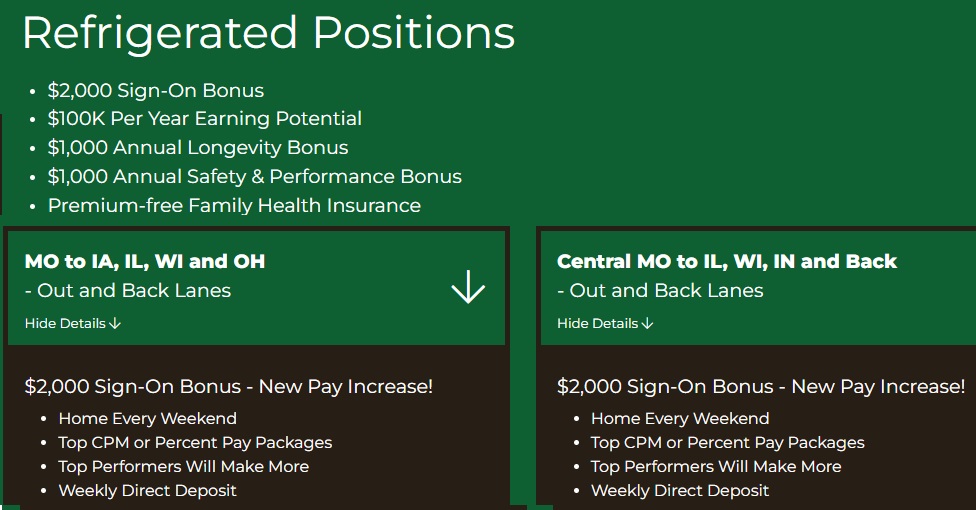 OTR HOME WEEKENDS, DRIVING ONLY IN THE MIDWEST
            HOME WEEKLY, OUT 13-5 DAYS OUT WITH 3 OFF, OR 23 DAYS OUT WITH 5 FULL DAYS OFF    
Earn $1.00 per miles after 2000 miles every week.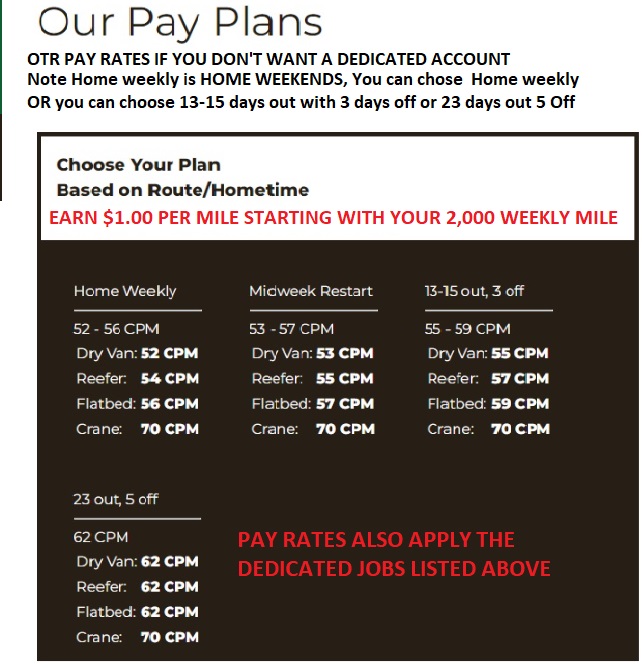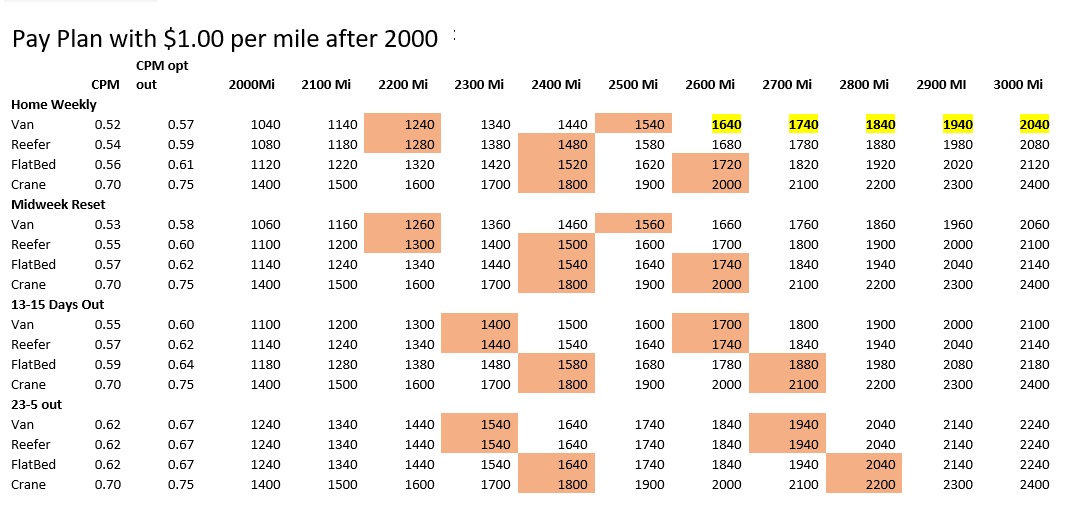 REQUIREMENTS
REQUIREMENTS: We are looking for elite top quality drivers for this job.
You must have a  Minimum 6 months Class A Tractor Trailer Experience IN THE 12 Months, OR AT LEAST ONE YEAR OF TRACTOR TRAILER EXPERIENCE IN THE LAST 3 YEARS. (Must be tractor trailer  Experience) hauling at least 40 foot trailers.
Job History maximum number of 6 jobs in the last 3 years. 
Fairly clean MVR and Background. SORRY NO SAP DRIVERS!
CURRENT HIRING AREA: IA, IL, IN
NO -Chicago or suburb of Chicago drivers at all
NO- CO, AR, KY or TN at all,
You will be contacted within 24 hours of submitting the secure 10 street (inteliapp) Pulse application. Most likely you are in the intellapp, 10 street system so the application is prefilled with your information and it will only take you a minute or two to complete. •
PLEASE CLICK ON "Click Here to Apply" link  BELOW TO APPLY FOR this job.