OTR SOLO REEFER JOB (Hiring in all areas on the map below)
Hiring Solo drivers or established Teams or will match solo drivers with a teammate.  W2 position with full benefits.  Running area all lower 48 states. 
We cover all costs for transportation and hotel  and ALL meals etc. for orientation.   No money out of your pocket and we pay you $250 for attending.   We pay you weekly with no hold back.  You will be paid the first week you go to work.
Orientation Information
Monday and Wednesday in Irving TX, 3 days.
Hotel, all meals and bus covered for company drivers.
Orientation Pay
$250 on first check
First year annualized gross at $80k+ (but must be willing to work!) A tenured 5-year driver with us currently will be in the $91k+ range. Drivers should average over $1540 per week or more with this job.
EXPERIENCED DRIVERS**
AVERAGING 2700 MILES PER WEEK     
1st YEAR Expected Annual Earnings     
Average 2700 miles per week AVG    $1,363.50
Average $.03 CPM per week accessorial pay =    $78
Total Average weekly GROSS PAY    $1,442
Annualized Mileage/accessorial pay    $74,958
Hit $.04 CPM bonus potential X 4 QTRS    $5,200
Total expected Annualized Earnings (2700 MPW) $80,158.00
Average Weekly    $1,541.50
 PLUS: $3,000 SIGN-ON BONUS
Steady freight will keep you moving and making a good living.
Automatic Detention Pay No macros, no waiting.
Health and life insurance for you, your spouse, and children.
A company-sponsored 401(K) plan We match a portion of what you contribute so you can have more when you retire.
Paid vacation and holidays so you can take a family road trip or spend some time at home.
Trucks Late-model Kenworth T-680s. 100% automatic fleet.
Trailers Experience a smooth haul pulling our Utility refrigerated trailers with SmartTruck UT6 aerodynamics.
Welcoming workplace Our drivers are known by name and get the support they deserve from dispatch to management.
Dependable home time Steady freight doesn't just mean reliable work and pay; it means reliable home time.
Rider and pet policy Bring your loved ones and pets to make those miles pass faster. DRIVERS**
HOME TIME: OTR – out 3-4 weeks, earning one day at home for every 6 days on duty to a max. of 4. Example: out 3 weeks – 3 days at home, out 4 weeks, 4 days at home.
We respect all emergency situations of course and will get any driver home in the event of an emergency. Have even flown drivers to their home locations when family emergencies have occurred.
 EQUIPMENT: 
2020 or newer KW T-680's
100% automatic
2500w inverter
APU
Fridge
Double bunk – 9" memory foam mattress
Blue tooth connectivity
TV mount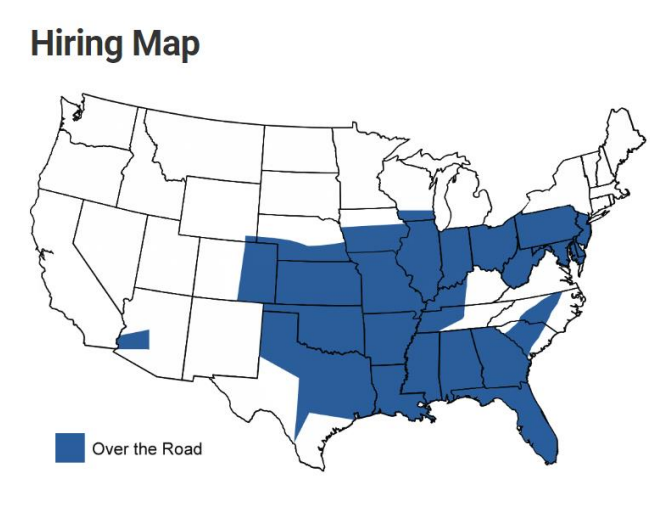 REQUIREMENTS:   6 to 12 months of OTR Tractor Trailer Experience.   Must be Class A time pulling trailers at least 40 feet or longer.  Local Time doesn't count must be multi state time.
Fairly clean MVR and background and job history.
Sorry no SAP or recent grad drivers.