We're looking to hire a few more drivers for our Texas Regional flatbed account.  All drivers are home weekly, usually home Friday evening out Sunday night or Monday morning.  (Can also get Sunday and Mondays off if you prefer)
No Flatbed  experience necessary we will train, but obviously prefer those with Flatbed experience.
This is for our Texas Regional open deck job
$1000 Orientation Pay!
You will average up to 2500 miles a week.
100% PAID MEDICAL PREMIUM Available
Guaranteed pay for the first 3 weeks.
You will be driving Flatbed, Stepdeck or low profile Stepdeck primarily driving late model top of the line Internationals, Macks or Peterbilts.
PAY: Based on Experience:
6-11 Months .59 CPM
1 year to 2 years .61 CPM
Over 2 years to 3 years .63 CPM
Over 3 years to 5 years .64 CPM
Over 5 Years   .65 CPM
SIGN ON BONUS: $2500 Sign on Bonus-$500 at first dispatch, $500 every 30 days until paid in full
Safe Driver Incentive:  Earn up to an additional .04 CPM paid monthly.
Most drivers are averaging $1500 to $1600 a week on this home weekly account.
REQUIREMENTS:   Class A CDL No flatbed experience needed we will train you.
If no Flatbed Experience we required at least 1 yr of OTR experience (must be multi-state 3 to 4 states at least hauling trailer at least 40 foot in length with Class A equipment).
IF YOU HAVE FLATBED EXPERIENCE:    6 months minimum if at least 6 months is all Flatbed Experience.  (must be multi-state 3 to 4 states at least hauling trailer at least 40 foot in length with Class A equipment).
Fairly clean MVR And Background.  Drug and alcohol offenses are 5 years.
MVR and Accidents

No (0) Preventable DOT recordable accidents in the prior 3 years
Maximum of three (3) preventable accidents in the last three (3) years
No more than two (2) non-serious moving violations within the last 18 months
No more than three (3) non-serious moving violations within the last three (3) years
No (0) Reckless or careless driving in the prior 5 years
No (0) Hit and run or leaving the scene in the prior 5 years
No (0) Serious moving violations as defined by the FMCA in the prior 3 years
Eluding or Fleeing from the police
Assault with a Motor Vehicle
Reckless homicide or voluntarily manslaughter
Felony with vehicle
False report
Permitting unlicensed driver to drive commercial vehicle
Suspended 2 or more times for poor driving record
Improper or erratic lane change
Excessive speed or any single speeding offense of 15 mph or more
Following too close
Background 
Felony theft conviction prior 5 years
Medical Certification
Current DOT physical must be valid 6 months beyond orientation. 

(We will accept your current DOT card if you have at least 6 months left on it) 
Good Job History.
HIRING AREA IN TEXAS:  All blue shaded areas on the Map: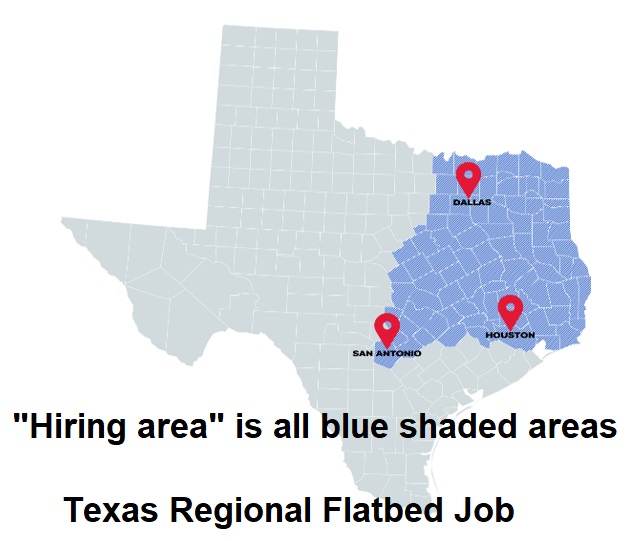 Full company benefits including:  (W-2 Position)
– Major Medical (100% PAID!!!)
– Vision
– Dental 401K
– Long and Short Term Disability
– Life Insurance (100% PAID!!!)
– Paid Vacation
We have limited slots available and they fill up fast so please apply right now by clicking on the APPLY NOW button below, while you are here at this website so you don't lose out.  It is an Intelliapp (10 street/pulse ) application so no doubt you are already in the system and your application is prefilled so it should only take a minute or two to complete the application.
If you have Driving history past the last 3 years we must have all of your driving history (Class A CDL driving time only) for the last 10 years)  Most of you will have that information already on there)