Where can you work just 40 weeks out of the year and make over $107,000 a year while taking off 12 weeks that year with full benefits, paid vacation and the ability to make as much money as you want if you want to stay out longer or drive hard.
Why work yourself to death when you can earn just as much money as you would working 52 weeks out of the year with a regular driving? Improve your quality of life and with the type of home time and pay you deserve.
Average Annual Earnings per driver in 2021: $107.621
These trucks are loaded all of them Auto, inverters so you can have a Flat Screen TV, Microwave, Fridge included along with other extras.
100% No touch freight. No NYC, Canada, or Mexico. Free rider program
Your paid by the Mile and we are paying up to .78 Cents per mile right now with drivers averaging about 2600 to 3000 miles per week.
PAY: Very good pay. Drivers with 30+ months of Tractor Experience will be paid .78 CPM if you have hazmat and .75 CPM if you don't have hazmat. Driver with 14-29 months of Tractor Trailer experience are paid .76 CPM if they have hazmat and .73 CPM if they don't have hazmat.
.78 CPM X 2800 miles = almost $2200 per week. .78 X 3000 miles = $2340 per week.
EXTRA BONUS MONEY: $875 (W/hazmat) $700 (No hazmat) CSA Safety Bonus + Paid Time Off + $500 On-Road Safety Bonus. Opportunity every 30 days for your first 90 days*. That is an potential extra $4125 per driver within the first 90 days along
*After first 90 days, you will be eligible for these bonuses every 90 days as long as you work for us and have a safe driving record. So you have the potential to add an extra $5000 just for being a safe driver per no other company offers this option.(This is never ending bonus, it just goes on and on and on)
Expected home time: Every 21 days you drive you will get a full 7 days off. These 7 days do not include your 2 travel days so that is a total of 9 days off every month. (You can choose to stay out longer if you want and make more money that is up to you.
NOTE: This is a fly away or drive away job. We can fly you from the nearest airport or get you a rental car to get you you home every 21 days. NO SLIP SEAT. You can leave your equipment in the truck. The Truck stays at one of our yards and get serviced during that time. NO SLIP SEAT, truck stays assigned to you.
I did mention you could stay out longer and make even more money too. The company average income for it's drivers last year was $107,621 for each driver for just working 40 weeks out of the year. However if you want to make more money that is up to you, nobody is forcing you to take 7 to 9 days off.
PRIMARY RUNNING AREA FOR THIS JOB Please make note of where you will be driving for this job. (See Map)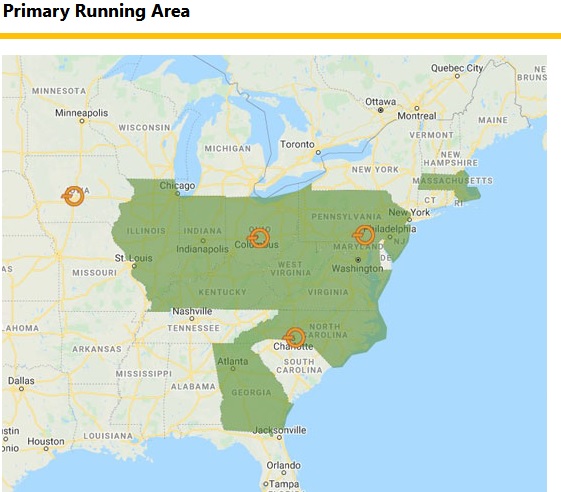 Benefits
Paid weekly
Generous PTO (vacation) program, with PTO to be taken January through October only
401(k) match program
Health Insurance (Blue Cross and Blue Shield) and Dental Insurance available
Cafeteria plan (make daycare and medical expenses tax-free)
Vision savings plan available
$10K free life insurance
Cash advances available
100% no-touch freight
No NYC, Canada, or Mexico
Newer trailers with tracking & cargo sensors
Late-model, well-equipped, assigned tractors
Prepass Plus weigh station bypass and toll transponders
Submit paperwork with your smart phone using Drive Axle, or use Transflo at truck stops
Advanced online services allow you to manage your loads, review payroll, and much more using your smart phone
Qualifications
A valid and current Class A CDL
14 months of verifiable OTR tractor-trailer experience in the past 48 months
No DWIs in the past 7 years
No more than 3 moving violations in the past 3 years
Pass a pre-employment DOT physical, drug screen
No preventable DOT reportable accidents in the past 3 years
No drug test refusal or failure
NO TOUCH FREIGHT!
Equipment is late-model Freightliner Cascadia, Kenworth T680, and International ProStar tractors Automatic transmissions 1500 watt inverters, Refrigerators, Air release fifth wheels, XM-ready/Bluetooth radios, Double bunk raised/high-rise roof, Dual tires, Dual air ride seats, Bunk heaters
You won't have to wait for loads or sit around, we have the freight for you to haul. We have to the freight for you to haul. business model.
Miles Averages 2800 to 3000 miles per week.
We can only offer the guaranteed flat rate pay to Team Drivers. Solo Drivers who want a Flat Rate guaranteed pay where you can earn up to $2800 each driver as a team driver and want us to match you up with another driver to team CLICK HERE FOR FLAT RATE GUARANTEED PAY TEAM JOB INFORMATION.
Look I am not kidding you when I tell you we have Limited openings this job. It is not going to last for long so please apply ASAP you will be to late.

You will be contacted within 24 hours of submitting the secure 10 street (inteliapp) Pulse application. Most likely you are in the intellapp, 10 street system so the application will only take you a minute or two to complete. •

PLEASE MAKE SURE BOTH DRIVERS APPLY, WE CAN'T PROCESS THE APPLICATIONS WITHOUT BOTH APPLICATIONS!