Dedicated TJ MAXX team freight running coast to coast. This is team freight that can be run by both Owner Operators, Lease Purchase Drivers and Company Driver Teams.

Teams will be out for at least two weeks at a time and should expect an average of 5,000 miles per week.
Company Team Pay = $.65 cpm .325 per driver for all miles truck runs.
Ex. .325 cpm X 5000=$1625 per driver. per week. Full benefits W-2 position for Company Drivers. Home time is home every other week.
Owner Operators: Owner Operator/Lease Pay = $1.55 plus fuel surcharge All drop and hook. Go to DC's and stores. (+ FSC currently around .40 CPM so looking at around $1.90 CPM right now) 5000 miles per week. Gross around $8400 with an Average Net around $6500 per week.
TJ MAXX TEAM LEASE PURCHASE
Teams will be out for at least two weeks at a time and should expect a minimum of 5,000 miles per week.
Owner Operator/Lease Pay = $1.55 plus fuel surcharge All drop and hook. Go to DC's and stores. (+ FSC currently around .40 CPM so looking at around $1.90 CPM right now)
Here is the TEAM TJ MAXX LEASE PURCHASE: It is a pretty decent lease…Lease Purchase Drivers should bring home around $8400 gross or $5000 net a week as an estimate. Owner Operator Teams should bring home net around $6500 per week. See below for the breakdown of expenses…
TJ MAXX LEASE PURCHASE: 579 Peterbilt (TEAM)
Going forward we will be leasing out 2019 and 2020 Peterbilt's for $679 a week. They are very nice trucks Below is some info on them.
2020 579 Peterbilt
Up to 60 month lease.
• $679 per week plus expenses.
• Physical damage insurance determined at time of lease based on value at that time.
• optional buyout at the conclusion of the lease.
• 5 year/600k mile warranty
• All trucks are 12 speed automatics.
• MX13 – 455HP Engine
• 1.8 cubic foot fridge
• Satellite ready stereo
• 1800 watt power inverter
• Mounting bracket for flat panel TV in bunk.
(Note the Fuel Surcharge is close to .35 CPM right now but it does go up and down so we just left it at .13 below but you will get more money from the FSC then is on the chart below which means more money in your pocket)
TEAM LEASE PURCHASE BREAKDOWN
The Estimated Settlement is money in your pocket after all expenses
(True Owner Operators extra expenses will only be around $200 per week + Fuel costs. Net amount (money in your pocket) should be around $6500 a week or over $25,000 a month or over $300,000 per year)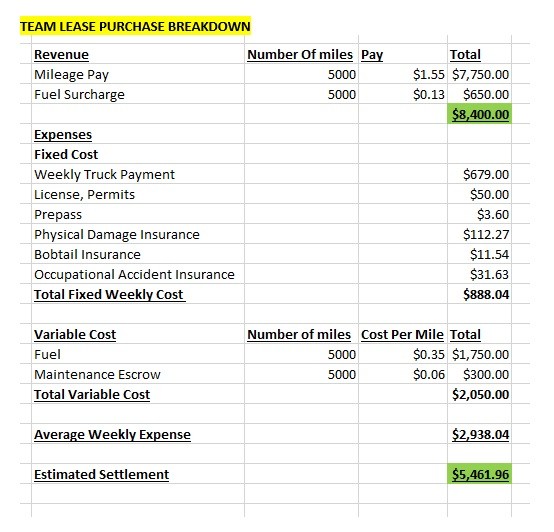 More Info
NOW FOR THE GOOD NEWS ABOUT ORIENTATION:  YOU DON'T HAVE TO TRAVEL ANYWHERE FOR ORIENTATION….you stay at home and do it all remotely except for the Road Test and to pick up your truck of course    Here is how the hiring process works.

App submitted and signed.  You will get a call and we will go over the app with you.  At that point reports will be run, normally back in 1-2 hrs. If all come back good and no surprises.

Driver will be scheduled for drug screen and physical in his area. Online orientation packet emailed to driver, takes about 4 hrs to go thru. Once drug screen and physical back, normally the next day. So if you the driver answer the phone when we call, you sign releases, etc  if say you are submitted on Monday or Tuesday and we can have you working by Friday.

(Drug tests are Urine only. We do not do hair follicle testing)

Drivers don't have to travel anywhere for orientation all done remote.    MEDICAL CARDS: One of the biggest hold ups and hurdles for is getting drivers approved through medical. But from today forward things will be different. 

Drivers will now be able to provide a valid medical card with 60 days remaining. Drug Screen is still needed for every applicant.

All medical cards need to be legible and easy to read.   What this means is we no longer have to have a driver go to a DOT physical and wait for medical to approve it. 

This should help not only speed up the process but should keep some drivers getting DQ' by medical. 

If your medical card expires within 60 days I would highly suggest that, that driver go get a Physical on his own and not use one of our clinics. If a driver decides to use one of our clinics his medical card will need to be approved by medical before moving forward.  
PLEASE APPLY BELOW BEFORE WE FILL UP THIS JOB, LIMITED OPENINGS AVAILABLE.
We can hire teams out of our current hiring area but be aware the primary states for origins and destinations are from Georgia, New Jersey, California, and North Carolina.
REQUIREMENTS: Minimum 6 months Class A Tractor Trailer Experience hauling at least 40 foot trailers. We can accept one partner who has at least 3 months with one company in the last 12 months as long as partner has over 6 months.
Fairly clean MVR and Background.
Look I am not kidding you when I tell you we have Limited openings this job. It is not going to last for long so if both of you don't apply ASAP you will be to late.

You will be contacted within 24 hours of submitting the secure 10 street (inteliapp) Pulse application. Most likely you are in the intellapp, 10 street system so the application will only take you a minute or two to complete. •

PLEASE MAKE SURE BOTH DRIVERS APPLY, WE CAN'T PROCESS THE APPLICATIONS WITHOUT BOTH APPLICATIONS!