Best Lease Purchase period in your area. No Money down, zero credit check, walk away lease and you can pay off your truck in as little as 2 years. You will have the potential to gross over $5300 per week and bring home net of almost $2500 per week after all expenses. (Most lease purchases you are lucky to bring $1500 home net) (You will be running Dry Van freight)
NO TRUCK PAYMENTS FOR THE FIRST TWO WEEKS OF YOUR LEASE SO YOU HAVE A CHANCE TO GET ROLLING. Along with getting settlements once per week (paperwork scanned in by midnight Sunday is settled on Friday), this means that you have the opportunity have cash flow into your bank account quicker.
Home time up to you, the driver, but best if willing to run 10-12 days to get the miles. (No need to stay out 3 to 4 weeks like most other Lease Purchases out there)
We offer some of the highest miles in the industry, which translates into high revenue for your business. This is one of the industry's best lease purchase programs.
RARE! RARE! RARE BUMPER TO BUMPER WARRANTY! • Each lease purchase unit is backed by our reputable maintenance program. On a standard lease, We will provide guaranteed bumper-to-bumper maintenance for $0.15/mile up to 700,000 miles accumulated on the tractor. (Where you going to find another lease that will give you a warranty up to 700,000 miles?)
For the remaining time on the lease, the tractor will still be covered for things such as oil changes, tires, brakes, clutch, alternator, belts and hoses and AC and heating components for $0.13/mile
LEASE INFORMATION:
• Contractors earn 70% of the revenue!
Contractor Compensation Independent contractors are paid 70% of the gross revenue on each load, plus 97% of the fuel surcharge.  Currently, 70% equals approximately $1.33/mile.  The amount of the fuel surcharge is based on the national fuel price.  This ensures that in times of soaring fuel prices you will be able to hold your profit margins and, in many cases, increase them!
• $0 money down and no credit check!
• 20 days notice will end the lease with no financial penalty to you!
• Late model Freightliner Cascadia's for lease with the majority being 2017 – 2018.
• All lease purchase units come with a guaranteed bumper-to-bumper maintenance program.
• Lease lengths vary depending on the year of the tractor, typically running between 2 and 4 years.

• Buyout option after the term of the lease is completed. An affordable $5000 balloon/buyout payment is all that stands between you and owning the tractor outright. You have the option to pay the balloon payment in full or set up a weekly payment plan so no worries in that regard.

Truck Specifications: •
2017 & 2018 Freightliner Cascadias (automatics)
• 435 HP, 14-Liter Detroit DDC engine
• 70" raised roof double-bunk sleeper cab
• Rear axle gear ratio of 3.58
• Tire size of 295/80R 22.5 low profile
REVENUE POTENTIAL: 3000 miles a week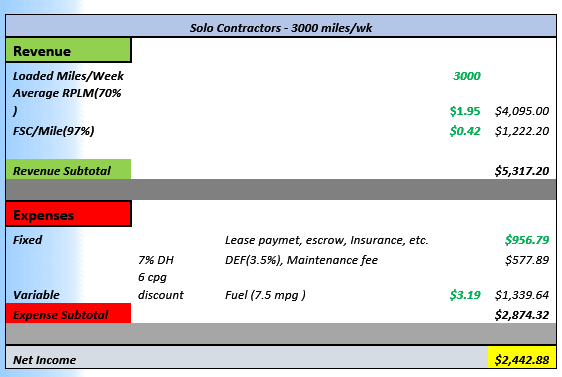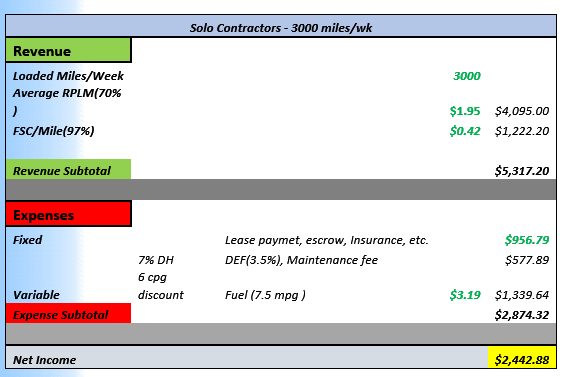 REVENUE POTENTIAL: 2500 miles a week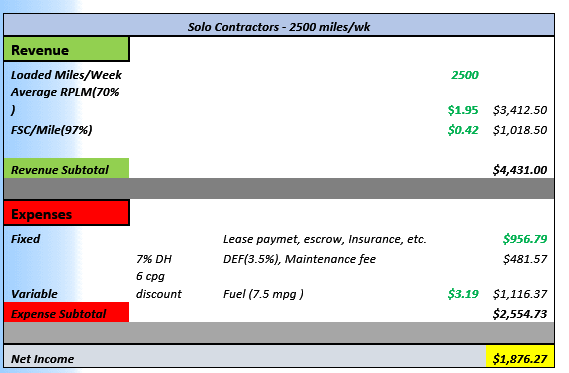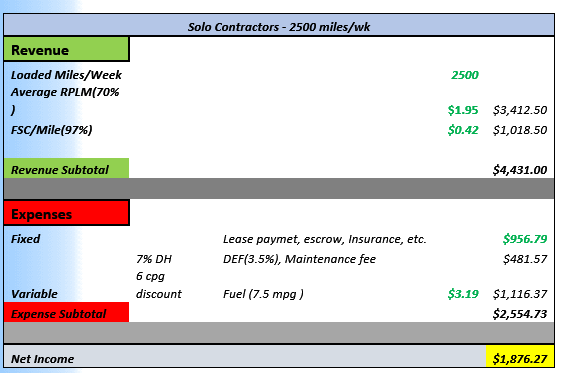 PAYMENT DETAILS: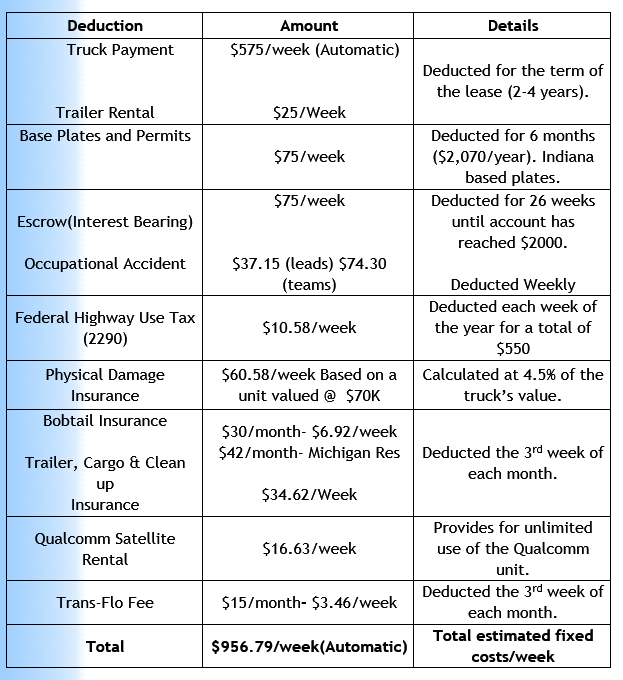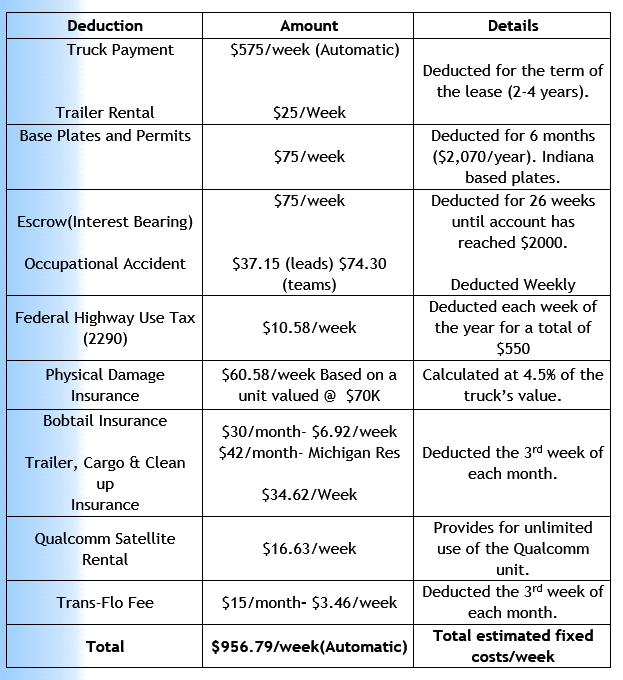 All accessorial pay such as extra stop, detention, or any other type of pay built into the company compensation will be settled at 70% to the independent contractor.
Independent contractors receive a fuel discount. You can save money on fuel by using our assigned fuel stop network. When using Loves, Petro, Pilot, Road Ranger and TA you will receive between 3 and 6 cents per gallon off of the cash price of diesel. Each contractor is issued a ComData fuel card for convenience.
Settlements are made once per week on Friday if your trip information is turned in by midnight on the Sunday before
Orientation for the lease purchase program Monday through Friday of each week.  We provide transportation via rental car or bus and reimburse your fuel cost.  We will also provide you with lodging ($0 expense) paid for by the company.  Meals- Breakfast and lunch will be available free of charge provided by the company. (Many companies charge you to go to orientation for a Lease Purchase but all expenses will be covered for you with this lease)
REQUIREMENTS: Minimum of 6 months of Class A Tractor Trailer Experience OTR pulling trailers at least 40 feet in length in the last 3 years. Fairly clean MVR and Background along with job history.
Hiring in AL, GA, TN, KY, SC, NC, VA, WV, PA, parts of NY, OH, IN, Parts of MI and WI, Parts of Iowa, MO, Parts of AR, parts of OK and within 200 miles from Dallas TX. Hiring in AZ between I-40 and I-10 from East to West of the entire state.

Limited openings this job won't last for long. Our Application is a 10 street Intelliapp so you are most likely already in the system so applying for this job is easy and fast.
You will be contacted within 24 hours of submitting the secure 10 street (inteliapp) Pulse application. Most likely you are in the intellapp, 10 street system so the application will only take you a minute or two to complete.